Discover more from WELLREAD
Everything you need to know to wake up, take action, and stay well.
Over 8,000 subscribers
UNF*CK THE VOTE
And heal our country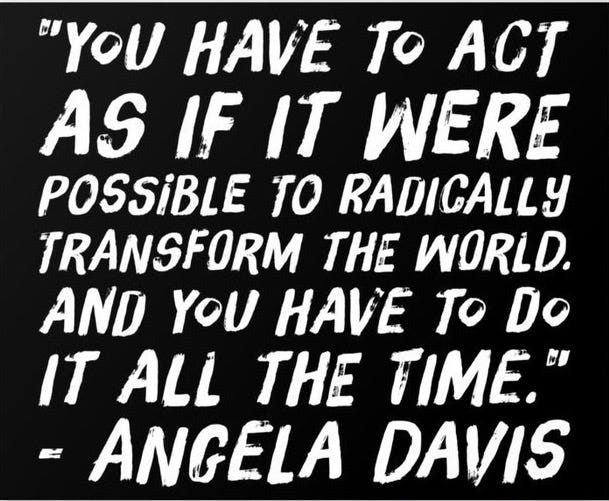 6 days.
6 more days to do everything in our power to ensure a landslide win. Because anything other than a major landslide is likely to be contested and decided in the courts.
And I'd be lying if I said I wasn't afraid. I'm afraid because there are things that I love that are at stake, there people that I love that are at stake. And I don't want to look back on this moment and know that I didn't do everything in my power to bring this vote home and defend democracy.
And it helps me to remember that we are not alone in our fear and we are not alone in our courage. As Angela Davis reminds us:
"You have to act as if it were possible to radically transform the world. And you have to do it all the time".
I believe that we can win.
Kerri (she/her)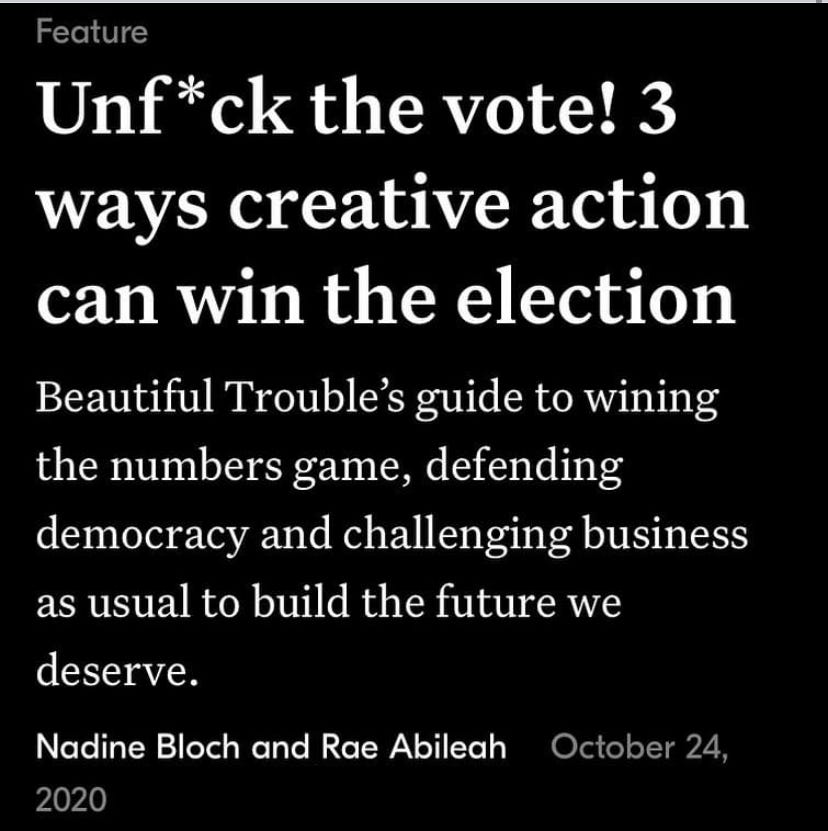 We love Beautiful Trouble's guide to winning the numbers game, defending democracy and challenging business as usual to build the future that we all deserve. This election is going to determine our future course on climate, racism and wellbeing. Creative strategy and action is essential to building political power and taking back our country. Here's what it looks like:
Winning the election: Winning is about more than voting, it's about community engagement. Beautiful Trouble suggests using online/offline strategies to meet voters where they're at. Being creative also helps us reach people who are not actively engaged and bring them into the conversation. Check out our #VOTEWELL ballot party guide to get organized.

Protecting the election: history has taught us that if we don't defend democracy and participation, it disappears. POTUS has already signalled that he is unwilling to accept the results of this election, so we are preparing an organized response and resistance. That includes protecting the polls, ensuring the safety of ballot counting machines and access to legal resources. If it results in a "stolen election" scenario, we will need to disrupt business as usual. Here are some innovative disruptions from around the world.

Depolarizing the election: This summer we saw the largest movement in the history of our country show up to defend black lives. We are gonna need all of us to continue the work of healing and repair, holding our government accountable, shifting culture and building the more just and beautiful world that we all deserve. We've got out work cut out for us, but we've got each other.

Join us for our VOTEWELL community call TOMORROW at 7p EST as we breakdown the next phase of the election and beyond.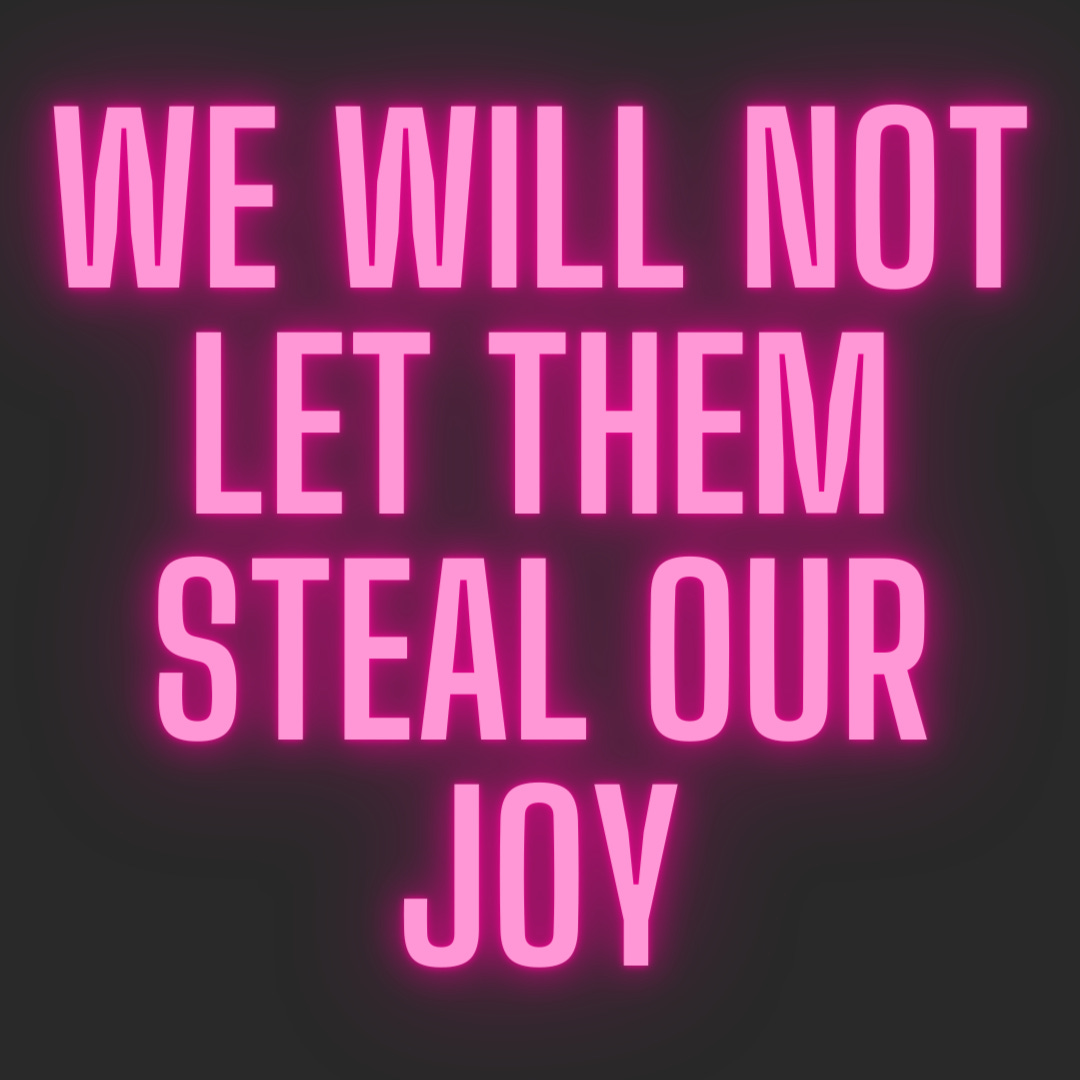 It may feel difficult in this moment to access joy. The conditions in our country are certainly nothing to celebrate right now. But joy is our birthright. It reminds us what and who we are fighting for. It helps us build a capacity to persist and sustain our activism. And it brings us together in shared purpose and belonging. So to kick off this final weekend of election engagement, we're creating a powerful moment of collective joy and action. Join us TOMORROW for #DANCETHEVOTE - an epic dance party to get down and get out the vote. We'll be led by NYC's favorite DJ Tasha Blank, Reggie Hubbard and more as we align our breath, bodies, voices and votes around the joyful world that we all deserve. Register here.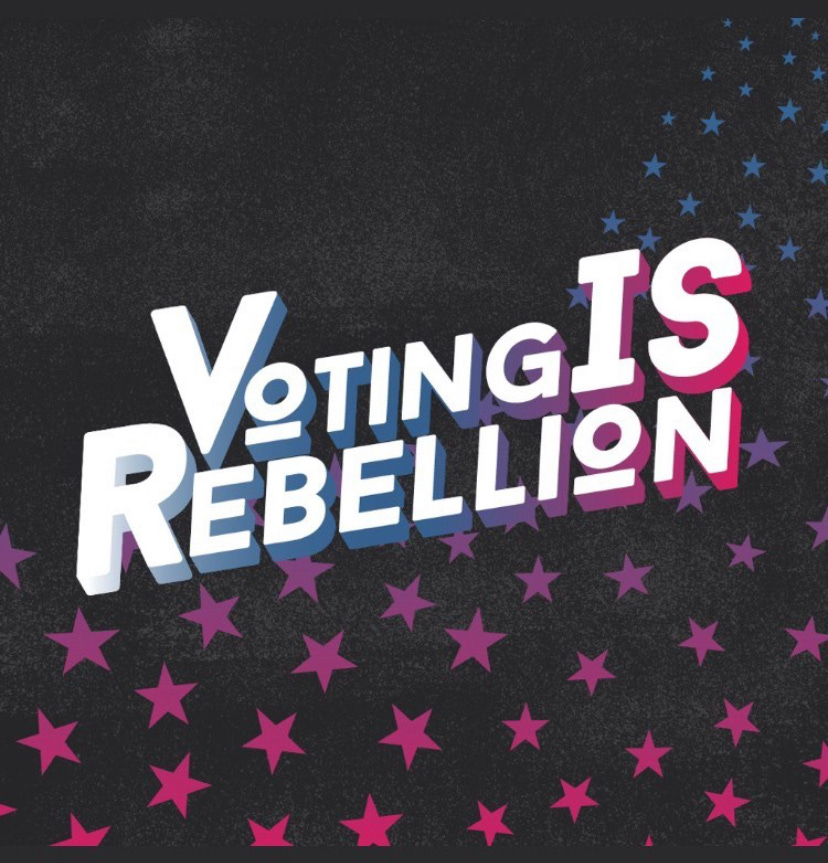 This is the part that we've been preparing for. Because it's going to call on us to hold many different feelings, actions and strategies at once. First, get out the vote. And given SCOTUS's rulings on mail-in ballots and Trump's efforts to undermine the postal service, it is strongly suggested that you now VOTE IN PERSON. If you are able, vote early or use a drop box. If that is not an option for you, make a plan and ask for help. It also means going beyond your individual vote by checking on your people, making calls, offering rides and playdates and sending pizza. Anything to support our collective vote. Second, we must be ready to defend the election and intervene to ensure every vote is counted. Lastly, we must prepared for the many post-election scenarios that might take place. Here's a resources and training guide for post-election engagement.

Hard times require furious dancing. And that's exactly what we're doing. Join us Thursday at 8PET for an epic dance party as we get down to get out the vote. We'll be joined by DJ Tasha Blank, Reggie Hubbard and others as we come together to remember what moves us to action.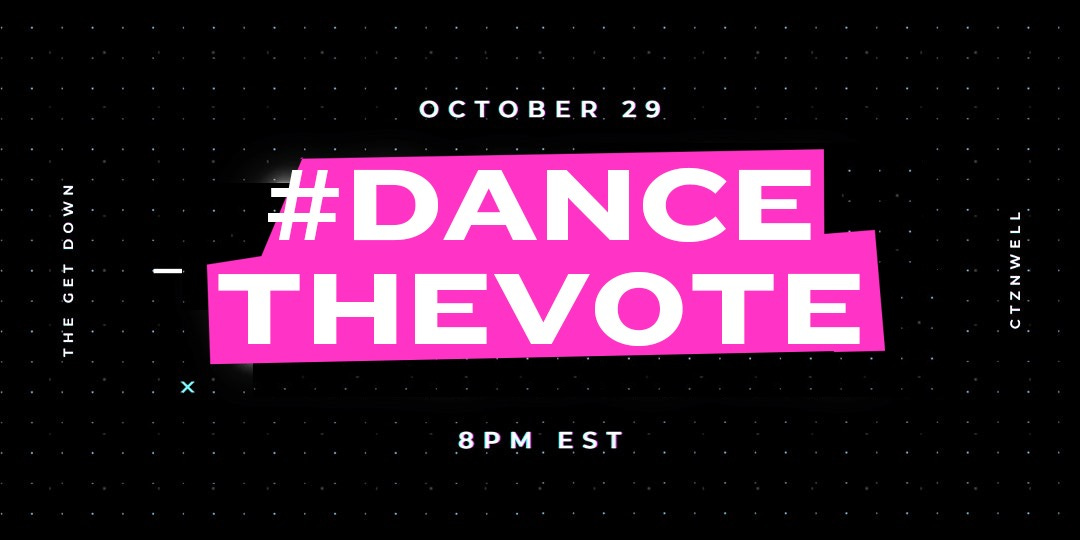 ---
SWAG ALERT!!!! We've partnered up with Be Love on a VOTE collection featuring cool hats and apparel so that you can wear your activism and inspire others to turn out the vote (proceeds go to CTZNWELL).
---
WELLREAD is community powered and crowd-sourced. That's how we keep it real. Join us on Patreon for as little as $2/month so that we can keep creating content that matters for CTZNs who care.